Tech camp
Titan Youth Programs' engineering, coding and app development classes are developed for children and teenagers, from grade two through middle school. Taught by experienced K-12 educators, our courses will help your child understand engineering, coding and app development.
Classes are held Monday through Friday on the California State University, Fullerton main campus and Irvine Center. Extended care is available on the CSUF campus only. Below you will find a preview of the classes that may be available during the summer. You can view program dates and costs on our Fees & Schedule page.
Please note that grades and ages listed are suggestions. Please contact us if you have any questions regarding the class' suitability for your child.
RoboCircuitz
Ideal for: Grades 2-4 (7-10 yr olds)
Ideal for children who enjoy hands-on problem solving, this class helps your child understand complex engineering concepts. The course provides:
A foundation in coding, robotics and circuit building
Personalized and self-paced learning, with only six students per instructor
Building and programming of LEGO robotic models and working electrical circuits with Snap Circuits through team collaboration.
You can learn more about this class in a recent story from the Orange County Register
.
Sphero Coding Camp
Ideal for: Grades 2-4 (7-10 yr olds)
In this course, your child will learn the basics of coding, engineering and robotics by:
Working hands on with block-based coding and Sphero robots.
Building interactive games and navigating challenging puzzles.
Taking part in engineering activities that promote innovative thinking.
Mobile App Development Class
Ideal for: Grades 6-8 (11-14 yr olds)
This class introduces your child to the world of mobile app development. Your child will:
Experience the entire app-development process, from design to development to debugging.
Build strong teamwork skills by working in small groups.
Visit a local tech company and learn from industry professionals.
What's your next step?
Learn about Art Camp or join the Titan Youth Programs email list. By joining the list you will also receive program and registration updates.
Art camp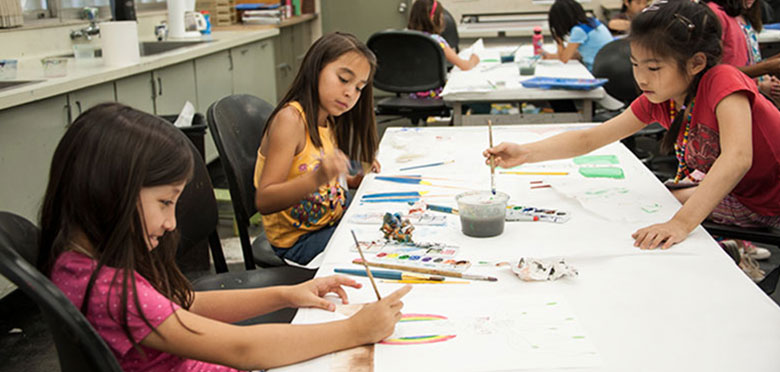 Art Camp allows your child to engage their creativity through painting, 3D sculpture and musical theatre. Learn more about Art Camp.